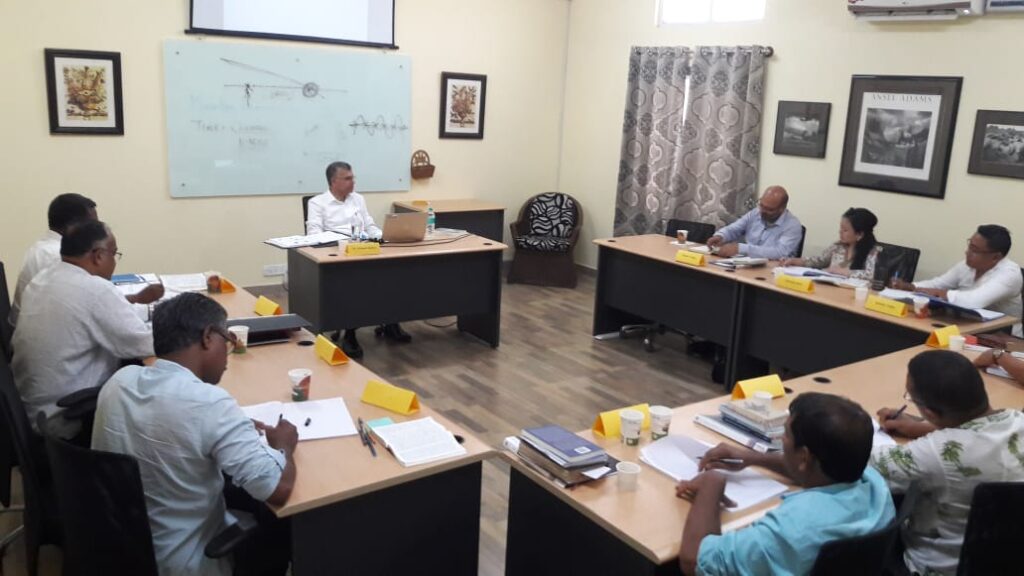 Objective and Purpose
The D. Min. is an advanced professional Doctorate degree designed to prepare theologically qualified graduates to be enriched with doctoral level knowledge and skills in practical ministry and leadership. Hence, this doctoral study requires a higher level of academic learning as well as engaging in a research project. Therefore, a full-time student should be able to complete this program within a period of four years which includes four two-week modules [semesters] in the first two years, followed by two years of research writings. This program will include seminars, a comprehensive examination and dissertation.
Entry Eligibility for D. Min. Program
Applicants with minimum of five years of ministry experience with successful completion of B.D. or M.Div. or equivalent degree with B+ [higher second class] or M.Th. with B grade [second class] or above, a second division score from a recognized institution/ college/ seminary with three years of ministry experience will be eligible to apply for the D. Min. degree course.
Candidate applying for D. Min. program should submit a letter of affirmation of work experience from the employing organization.
However, applicants who do not have second class in their previous theological studies may have to take some pre-required B.D. or M.Div. level course/s and maintain a minimum of B and above grade to be eligible for the program.
Applicants from ATA colleges with less than B grade should write the qualifying examinations during the time of the entrance examinations at NLC.
The applicants having B.D. or M.Div. degrees from unrecognized institutions with a B grade average should write the qualifying examinations on adequate numbers of papers during the time of the entrance examinations.
Admission Criteria
Admission is open to all regardless of language, culture or denomination. The multi-linguistic and multi-ethnic community at New Life College helps students understand and appreciate other customs and cultures.
Completed Application Form: A completed form, with two passport size photos should be submitted by March 31st for priority consideration. To apply, please visit the Application page for detailed instructions. Applications after this date will be granted on a first-come, first-serve basis, depending on available space.
Documents: A copy of your High School, PUC, Degree and all theological education degree documents relating to previous academic history must be submitted with the application form. Original certificates will need to be submitted after admission to NLC. All original certificates will be returned at the end of your program of study. Please DO NOT mail any original certificates, but carry them with you to the interview.
Conduct Certificate: Students who have attended other colleges will be required to provide a conduct certificate or recommendation letter from the previous colleges.
Reference Letter: A letter of recommendation from your pastor and a reference from a teacher/organization head are required.To apply, please visit the Application page for detailed instructions.
Medical Certificate: All incoming students must also produce a medical certificate indicating good health
Sponsorship Form: Students must provide a completed sponsorship form with assurance that the sponsor will meet all expenses. There are a limited number of work scholarships available for needy students. Please see the financial aid section in the Student Handbook.
Testimony: Every applicant must write (handwritten preferred) and submit a personal testimony with the application.
Diversity: To improve diversity at NLC, we will only admit a limited number of students from any state into each class. Students who apply after the quota is reached will be placed on the waiting list.
Entrance Exam and Interview: Students who have been granted admission to NLC must appear for entrance tests in English and Bible Knowledge on the specified date and time. An oral interview will also be held before admission.
Required Courses
| | | |
| --- | --- | --- |
| Sl. No. | Course/Module | Credit Hours |
| 1 | Applied Research Methodology | 4 |
| 2 | Ministerial Formation and Minister | 4 |
| 3 | Biblical Foundations of Spirit-led Ministry | 4 |
| 4 | Biblical Interpretation, Communication and Mission | 4 |
| 5 | Theology of Mission | 4 |
| 6 | Mission: History and Contemporary Issues | 4 |
| 7 | Psychology, Counseling and Advanced Pastoral Care | 4 |
| 8 | Transformational Leadership | 4 |
| 9 | 21st Century Church: Mission, Music and Education | 4 |
| 10 | Dissertation [Research Project] | 18 |
| | Total | 54 |
The application can be downloaded at Doctor of Ministry (PDF). For more information, please contact the office at +91-8762600942 or dmin@newlifecollege.org